Weyauwega Specialty Cheese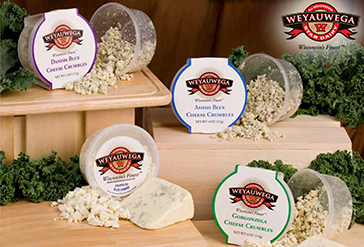 The key word in our specialty cheese is special. Every variety is made from all-natural, local ingredients with a flavor that makes it easy to understand why we're Wisconsin's Finest™.
Parmesan Grated Cheese — Shaker Containers
Aged for 10 months, our grated Parmesan Cheese is zesty, nutty and buttery in flavor. Perfect with pasta, it also complements pizza, soup, casseroles, bread and cooked vegetables. 1 size; 1 flavor.
French Onion Dip
Weyauwega's French Onion Dip offers the palate a rich, creamy and smooth flavor. In addition to being great for soup, it's also perfect for crudités. 16-oz.
All-natural Sour Cream
There's nothing quite like fresh, all-natural sour cream. It offers the best flavor, and it's healthier than sour cream with unwanted additives or preservatives. Ours is simply delicious! 16-oz.
All-natural Cottage Cheese
Rich in protein and flavor, our cottage cheese is an excellent choice for a healthy snack, or as part of a delicious meal. Did you know that cottage cheese has more protein than Greek yogurt?
Sizes:
Variety
All Natural Crumble Cheese Cups
Our crumble cheese cups are favorites for salads, special meals or every-day recipes. Our dedication to quality and taste is the reason Weyauwega is Wisconsin's Finest™ cheese.
Variety of Flavors
Feta (Plain)
Feta (Reduced Fat)
Blue Cheese
Gorgonzola
Sizes