Weyauwega Cheese — Wisconsin's Finest™
The Weyauwega Cheese story began over a century ago in 1912, when Edwin and Pauline Knaus set out to create Wisconsin's Finest cheese. From day one, they carefully crafted a variety of quality Wisconsin cheese products from the finest ingredients available.
Edwin and Pauline had a simple, yet powerful, philosophy that has never waivered: create the very best products possible, and always take pride in your work — no matter how small the task.
Weyauwega Cheese is now in its fourth generation as a family-owned company. Although each generation has been involved in different aspects of cheese making, and much has changed over the years, each of us has honored Edwin and Pauline's philosophy. We still make Wisconsin's Finest cheese products with the same ingredients of quality and family pride.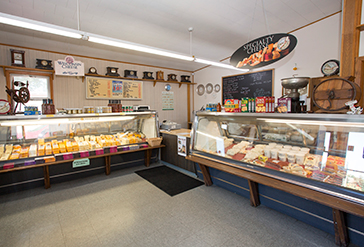 Today, our family manages all aspects of the business from milk-to-market, from our family to yours. We start with milk from local, family-owned dairy farms and manufacture our cheese products in state-of-the-art facilities in Wisconsin. Weyauwega sources and distributes Wisconsin's Finest cheese and dairy products throughout our great nation.
We understand that the word Weyauwega may be difficult to pronounce. So we've developed a phonetic pronunciation that's easy to remember:
Just say, "Y-O-WE-GA" — Wisconsin's Finest™.
Brought to you by Four Generations of The Knaus Family.