Weyauwega Shredded Cheese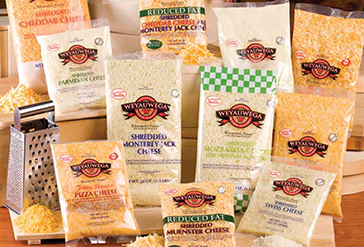 Our all-natural shredded cheese is available in six delicious varieites. Each comes in an assortment of package sizes and cuts including fancy, feather and "V" cut.
Fancy cut cheese is thin like angel hair pasta, and is quick melting. Feather cut is fatter like linguine, and holds its shape when melted. "V" cut cheese has ridges that form a v-like pattern in the cheese. No matter which version you choose, you can depend on Wisconsin's Finest™ shredded cheese to be made from fresh, local ingredients of the highest quality.
Variety of Flavors:
Cheddar
Mozzarella
Cheese Curds
Blends
Swiss
Parmesan
Asiago
Sizes:
5-oz.
8-oz.
16-oz.
24-oz.
32-oz.
5#
Cuts